My Favorite Holiday Reads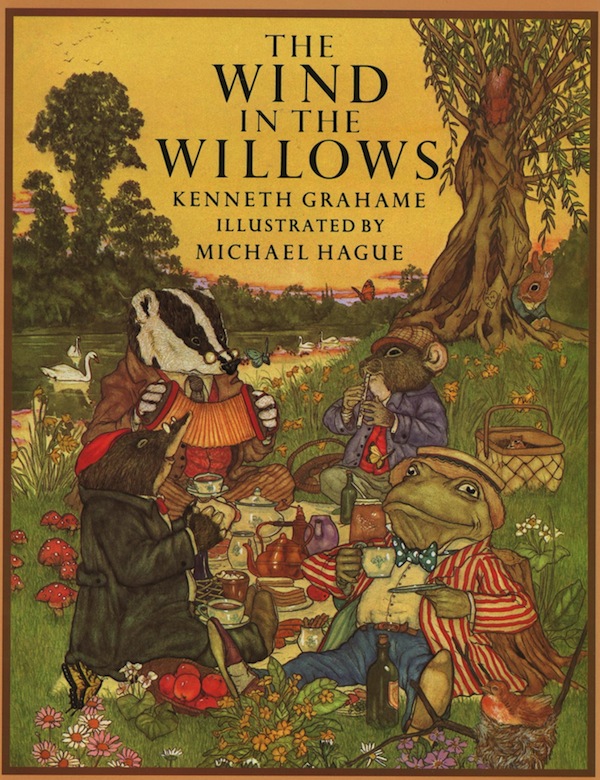 The holidays are a particularly magical time of year — a stretch of quiet, lazy days with frost on the windowpanes. Perfect reading conditions. For me, the holidays are a period when I like to revisit some favorite books and stories. Here are some of my seasonal favorites:
1. The Wind and the Willows by Kenneth Grahame – the perfect blend of coziness, humor, and adventure with snippets of lyrical, soul-stirring philosophy. Really, a perfect book and one that has influenced so many other authors (Tolkien not the least of them). Toad is one of literature's all-time great characters and the scene where Rat is comforting Mole and making him feel important will have you dabbing your eyes.
2. The Fellowship of the Ring by J.R.R. Tolkien – I've always felt that the first part of LOTR is the one where its soul resides. The scale is smaller and it's really about friendship — four little hobbits trying to make their way in an ever-bigger and more threatening world. The scenes at Bag End, Crickhollow, and the Old Forest are particular favorites. And who can forget their trip to Bree and their fateful meeting with Strider? A great holiday read, even if you choose to leave the adventure at Rivendell.
3. A Wizard of Earthsea by Ursula LeGuin – No one does magic quite like Ursula LeGuin. She really does a wonderful job of weaving it into the world and introducing us to those who have the ability to tease and coax it out. She also exhibits a talent for making the mundane details of life and its attendant labors beautiful and profound in their own little way. If you haven't yet discovered Ged or the Isle of Roke, perhaps you'll make their acquaintance this holiday season.
4. Return of the Native by Thomas Hardy – This selection will undoubtedly make some English majors gasp, but stay with me a moment. The point of this list is to underscore magical holiday reads and I'd argue that a major component of that is atmosphere. With its dark heaths, clandestine meetings, and the magical realism of the itinerant Reddleman, the Return of the Native has some very real and present charms. It also had considerably more humor than I recalled from my high school days. Give it a chance. If nothing else, Hardy turns a very pretty phrase — aspiring writers can learn a great deal from his prose.
5. The Golden Compass by Philip Pullman – In my opinion, Pullman's controversial masterpiece will be debated and discussed a hundred years from now while many more popular and trendy series fade into obscurity. It is children's literature at its best — imaginative, thought provoking, challenging, and superbly crafted. And with Oxford's snowy rooftops, Gyptian convocations, Northern lights, and armored Panzerbears, it has a decidedly wintry feel. Perfect for the holidays.
6. The Fourteen Bears by Evelyn Scott – A favorite picture book from my wee days. Fourteen bears experience the seasons of summer and winner and all their attendant joys and activities. Very cozy and fun if you have a younger reader in your life. Even if you don't!
7. The Dark is Rising by Susan Cooper – Like Ursula LeGuin, Susan Cooper is another under-appreciated titan in the world of fantasy and children's literature. The Dark is Rising is riddled with Welsh folklore, magic, and mystery. Just wait until you meet the Walker and the Black Rider…you'll be peering out the windows with a sense of anticipation, dread, and delight.
8. The Adventures of Sherlock Holmes by Sir Arthur Conan Doyle – I've done the math and these are simply perfect bedtime reading. What could be better than settling into a comfortable armchair at Baker Street and joining Holmes and Watson as the puzzle of the latest mystery to grace their doorstep. Even if you know the ending, the atmosphere and banter alone merit a return visit.
9. A Christmas Carol by Charles Dickens – I normally have mixed feelings about Dickens, a nasty man whose novels are drenched with wordy, endless descriptions. That said, A Christmas Carol is simply a masterpiece of storytelling. Writing for a younger audience forced Dickens to streamline his prose and the result is wonderful — a classic tale of reflection and redemption for the iconic Ebenezer Scrooge. There would be no "It's a Wonderful Life" without Dickens's classic.
There you go. If you haven't read some of the books on the list, consider giving some a try this holiday season. Each one has a special place on my bookshelf. Maybe they'll earn a spot on yours.