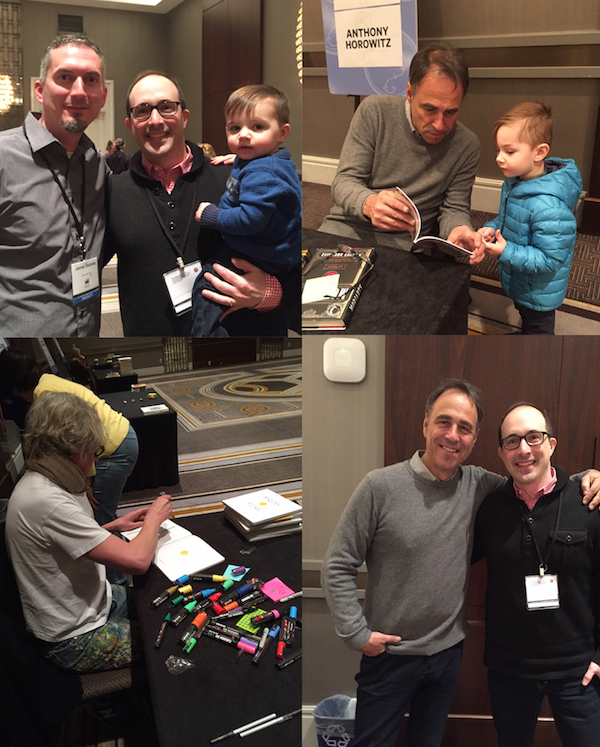 On February 6th the Society for Children's Book Writers and Illustrators (SCBWI) kicked off 2015 with its winter conference in New York City. This was the third conference I've attended, and my first as a member of the faculty.
If you're interested in writing or illustrating children's books, I really can't recommend the SCBWI more highly. Writing can be a very solitary career, and it's wonderful to come together now and again with like-minded people to discuss your shared pursuits and passion. The SCBWI brings together writers, illustrators, agents, editors, and other publishing professionals to provide what is really an unrivaled collection of talent and experience. At any given conference you're likely to find aspiring, unpublished writers and artists hanging out with winners of the Newbery or Caldecott. It's an incredibly warm and collegial group of people.
So, what happens at a typical conference? It's a mix of professional networking, keynote speeches by various industry luminaries, and smaller, seminar-style sessions in which an expert discusses some aspect of book creation, getting published, or career management (e.g., character development, agent submissions, creating cover art…). I've found it to be a nice blend of structured activity and down/social time.
My session was a daylong workshop on worldbuilding. For the workshop, we assembled a really experienced group of people that included authors (myself, James Dashner, and Jane Yolen), editors (Antonia Markiet, Krista Marino, and Ari Luwin) and an agent (Brook Sherman) to work with about seventy participants on defining, shaping, and refining the world in their stories. The fabulous Emma Dryden of drydenbks moderated the various panels and discussions, which included my approach to worldbuilding, applying my system to the participants stories, critique sessions, a conversation between James Dashner and Krista Marino discussing his process for Maze Runner, and a panel discussion of the editors/agent to identify trends in the industry, what's working well for submissions (and what isn't). While I'm naturally biased, I think most of the participants got a lot out of the day — a nice blend of concepts, practical application, and inspiration from their fellow world builders. My hope is that we'll do it again sometime. Some key takeaways from our group:
It's critical to really understand your world and how it's various components fit together
While this is critical, your audience does not necessarily need to know everything you do
Don't neglect geography and other physical aspects of your setting — it has a direct impact on how its inhabitants live
The best world builders sprinkle in details as they go in a variety of ways (description, dialogue, actions) rather than dumping a truckload of info via dense exposition
World building applies to almost any story, not just fantasy and science fiction (or "speculative fiction" as Jane Yolen prefers)
Ultimately, editors and agents want to read interesting/cool stories with compelling characters and a distinctive voice. That said, certain genres these days tend to be a tougher sell (particularly steampunk and paranormal romance)
If you're writing steampunk or paranormal romance, don't give up — just make certain that it's really unique as opposed to a generic addition to the genre
Writers who can truly scare the editor/agent or make them laugh tend to do well
While the sessions are great, it's also a real treat to simply hang out and chat with your fellow writers, artists, and editors — many of whom become good friends. The biggest treat was signing books at the weekend's conclusion alongside some real legends in the industry – James Dashner, Anthony Horowitz (of Alex Rider, Sherlock Holmes, and James Bond fame), the newly minted Newbery winner Kwame Alexander, the brilliant Hervé Tullet (whose colorful signatures put all others to shame), Laura Vaccaro Seeger, and others. My youngest son James enjoyed meeting Mr. Dashner while his older brother, Charlie, and Mr. Horowitz discussed sea monsters at great length. For my wife, having a chance to chat with children's book author (and pop culture icon) Henry Winkler was a personal highlight. He's truly a warm and funny man.
All in all, it was an exhausting, fun, and totally inspiring weekend. I plan on attending the summer conference in Los Angeles, and hope to again have the honor of serving on the faculty and sharing a bit of my approach with my fellow writers and artists. I hope to see you there!